Information And Images Needed To Create Your Wellbeing Umbrella Sellers Store
Last updated on April 26th, 2022 at 8:38 pm
Exciting Times Ahead!
Whether you're awaiting approval to our Wellbeing Umbrella marketplace or would like an idea of what to have ready before you make yourself at home in your store, we thought we would share with you some of the information you will need when creating your sellers store account and your listings, so you have all your images, links and information ready for when you start.
YOUR STORE ACCOUNT
Avatar – An image that will accompany any articles/posts you write. Image size is 150 x 150 pixels.
Personal Profile (Bio) – You can include information up to 500 characters and your personal profile will be displayed below any articles/posts you write on the Marketplace.
Social Media Links – Get your links ready for any Twitter, Facebook, Instagram, You Tube, LinkedIn, Google plus, Snapchat and Pinterest accounts you may have.
Your 'About' Section
'About' Gallery – You can display up to 6 images in the about section. Image size is 800 x 600 pixels.
'About' Video – You can display a You Tube video here, by copying the relevant embedded code. (This can be found by clicking the share button below your You Tube video and choosing the embed option).
Your Story – You can include information up to 1500 characters to tell your story or journey and attract customers by explaining your why. Think of why you came into business or why what you do is so important to you.
Your Business – You can include information up to 1500 characters to explain more about your business and what it offers.
YOUR STORE SETTINGS
General Settings – Store name, e-mail and phone number
Store Brand Set Up
Image for your Store Logo – Image size is 125 x 125 pixels.
Image for your Store Banner – Image size is 2000 x 700 pixels.
Image for your Mobile Banner – Image size is 520 x 250 pixels. This will be visible when someone views your store from a mobile.
Store Description – You can include information up to 500 characters for your main store description, this will appear on your store page below your banner.
PAYMENTS
Payment Details – We use Stripe to securely process your sales. You will need your own Stripe Payment account so the Wellbeing Umbrella Marketplace can enable scheduled payments to you. You can connect to your Stripe account or create a new one through our site. If creating a new Stripe account, you will need your bank details ready.
STORE POLICY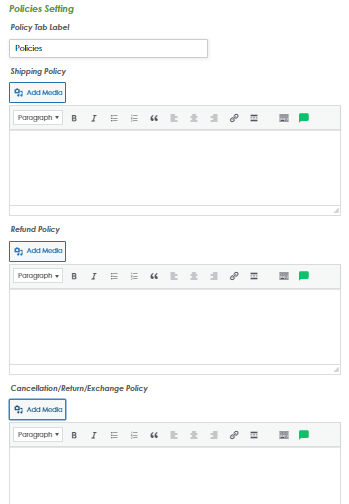 Shipping Policy- A good shipping policy will help you to create the right expectations around shipping times, it is good practice to identify to your customer both dispatch time (how long it takes you to get the order ready) and delivery times.
You may wish to include –
Order process time
Domestic and international shipping options
How long the shipping method will take.
Shipping costs
What your cut off time is for next day delivery
Any restrictions such as P.O boxes or countries
Local collections/delivery availability
Refund Policy – You will need to provide clear information regarding returns and refunds. Legally a buyer has 14 days after receipt to notify you that they wish to return the goods. They then have another 14 days to make the return.
You may wish to include:
Who is responsible for the cost of the return (postage/packaging etc)?
The timeframe that you will accept a return.
How long they can expect to wait for a refund after you have received the return
(Please note: under this Clause 16 of the Terms for Sellers, refunds must be issued within 14 calendar days of the day on which you agree that the Buyer is entitled to a refund. Stripe refund credit can take approximately 5-10 business days, depending upon the customers bank).
For further information https://www.gov.uk/accepting-returns-and-giving-refunds gives the legality aspect so you remain within the law.
Cancellation/Return/Exchange Policy – You will need to provide clear details how and when you will accept a cancellation, return or exchange.
Please ensure your policy is in accordance with U.K Government's Consumer Rights Law and clauses 15-17 of Wellbeing Umbrella's own Terms for Sellers covering 'Buyers' Rights'.
Check out the gov.uk website under Online and distance selling for legal obligations as there are different requirements for downloads and streaming, that you may not have considered.
STORE HOURS
Daily Basis Opening & Closing Hours – The hours each day Monday – Sunday that you will be open.
VACATION MODE
Your vacation message – Details and dates for when you will be closed, who if anyone else can assist whilst you are away?