Training & Support: The Benefits Of Blogging
Last Updated: 2nd July 2021
Training Overview: The Benefits Of Blogging – with Claire Taylor
Writing blog posts is a huge investment in time for a business owner, so its vital you get a return from them. Blogs are multi-purpose. They are found in organic searches. They educate your prospective customers and answer their questions. They establish you as an expert in your field. They demonstrate you understand your potential customer's problem they are looking to solve. They build confidence and trust. The generate leads and sales and help your business to grow.
Why wouldn't you want to blog!
Support Services
Are you in need of practical support with your blogging and content, either on or off the Wellbeing Marketplace? The lovely Claire Taylor, Founder of Raspberry Flamingo Copywriting & Content Marketing has teamed up with us to offer blog writing support and editing service to ensure you skilfully engage and educate your target audience and establish yourself as THE expert! Check out her services below to learn more.
ONLINE SEO BLOG WRITING COURSE
Blog writing is a real art – and it's one which is easy to master and brings so many business benefits. But blogging without using the right structure and full On-Page SEO, will bring significantly less return.
This on-demand, online course will explain everything you need to know to create an amazing blog, positioning you as the expert in your field… and learning how to use On-Page SEO correctly will get your blogs found in searches, driving organic traffic to it and your products and services. 
Wellbeing Umbrella Special Price – £29
BLOGS – EDITING
If you love the idea of blogging, then give it a go.  Who better to write about your specialist subject than you! But we'll let you into a little secret.  Even the professionals have their blogs proofread and grammar checked by another writer.  It's so easy not to see that typo when you know what it should say and have read it back once too often.  You go accuracy blind.
If you would like a professional pair of eyes to check over your blog post and make any suggestions for improvements, if they're required, then we can do that for you. On-Page SEO checked too. Maximum 48 hour (Mon-Fri) turnaround.
Price: £25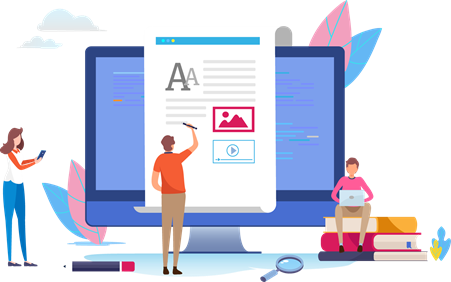 BLOGS – WRITTEN FOR YOU
If you would like to publish regular blogs but don't either feel like you have the time to write them, or have the confidence in your writing skills, then Raspberry Flamingo can create them for you.
Working with businesses from just about every sector and industry, blogs can either be written 'on-demand' or on a regular monthly retainer.   
Our content writers are all either qualified English teachers or communications professionals. All blogs are approx. 1000 words and contain full on-page SEO so that Google can return them in searches, driving organic traffic to them.
Blog posts start at £65
1HR CONTENT & SEO REVIEW CALL
If you've been creating your own content (website, blogs, listings, email marketing, etc) for a while and enjoy doing so but feel it could either deliver more leads and sales… or you just want a professional, impartial pair of eyes to review it, then this could be for you.
Jump on a Zoom call with Claire, Founder of Raspberry Flamingo Copywriting & Content Marketing, and review your content live. Look at your use of On-Page SEO to ensure you're using it to its maximum potential. Everything discussed will be confirmed in an email to you following the call, so you don't forget anything. It's really amazing just how much can be covered in one hour!
Price: £97
More About Our Lovely Collaborative Partner . . .
Claire Taylor is the Founder of Raspberry Flamingo Copywriting and Content Marketing.  She is also one of the co-hosts of the weekly Raspberry Tea Podchat. With a long career in copywriting, marketing, training and university lecturing, Claire puts all her skills into her passion – helping other business owners gain more leads and sales to grow their business. She is also a qualified clinical mental health therapist, although no longer has the time to practice. If you need advice on sales or marketing words, On-Page SEO, or are a budding writer, then Claire would love to hear from you. Visit: www.raspberryflamingo.com
---