How To Provide Proof of Business Insurance Renewal/Professional Body Credentials
Last Updated: 23rd June 2021
Applies to:
Business Basics, Business Enhanced & Business Growth Account Holders – Business Insurance
Business Enhanced & Business Growth Account Holders – Professional Body Credentials
We make every effort to ensure wellness store sellers on our Wellbeing Marketplace are legitimate and hold valid business insurance.
It is a condition of our Wellbeing Marketplace that store sellers hold up-to-date business insurance. The type of business insurance we accept includes Professional Indemnity, Public Liability and/or Product Liability.
Depending upon the nature of your wellbeing business will depend upon the type of, above listed, business insurance(s) you hold and submit to us.
To help demonstrate you are a member of a professional body, organisation or association we accept copies of Membership certificates or cards (Business Enhanced & Business Growth subscribers only).
You can upload your renewal Business Insurance Cover details or Professional Body Certificate via your store account dashboard at anytime;
1. Log in to your store dashboard or click 'Store Manager' in the top right corner, if already logged in.
2. Select "Edit your profile" tab located on the menu or button on the dashboard.
3. Select the 'Verification' tab on the sub menu.
4. Select the 'Upload' button and upload your document(s).
5. To alert the Wellbeing Umbrella Team you have uploaded new documents you wish to be verified tick the 'Prompt Verify' button.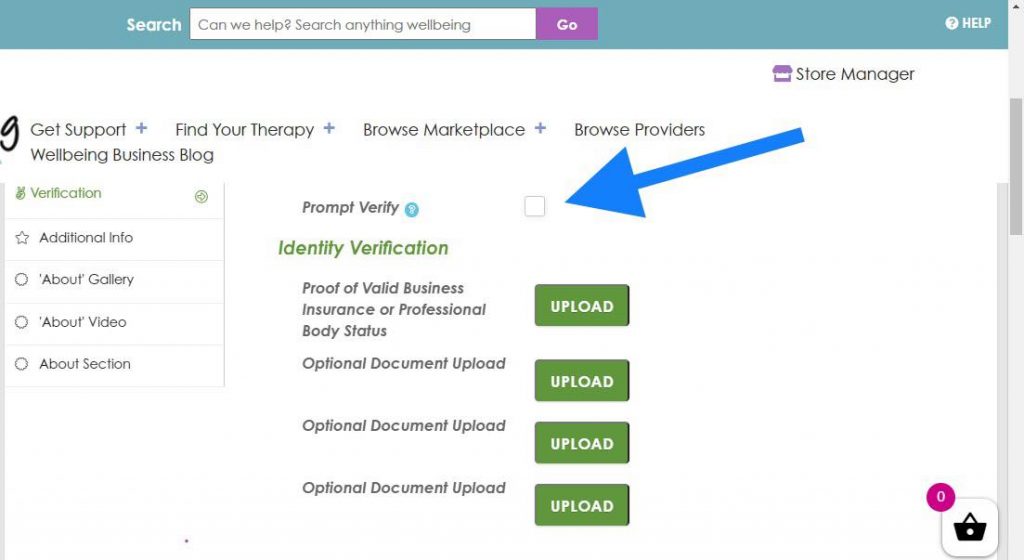 6. Ensure you have pressed the 'Save' button at the bottom of the page.
7. The Wellbeing Umbrella Team will check your credentials within 7 days and get in touch if they require any further information.